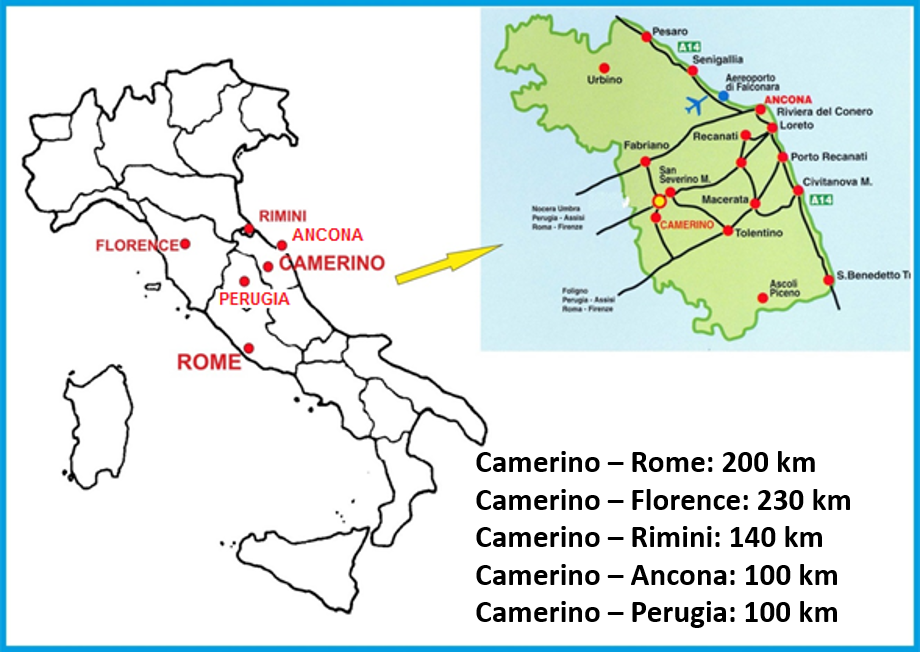 ARRIVAL AND DEPARTURE
The official airports are:
Ancona Falconara (1 hour by bus)
Rome Fiumicino or Ciampino (3 hours by bus)
The official train stations are:
Foligno (20 minutes by bus)
Ancona Stazione Centrale (1 hour by bus)
Transport from these airports and stations to the accommodation in Camerino will be provided free of charge by the organizer.
Different pick-up and drop-off points are on request and teams will have to pay an extra fee.
HOW TO REACH CAMERINO BY CAR
Those travelling on the A14 motorway should take the 'Macerata-Civitanova Marche' exit and proceed west along the highway SS77 until the Camerino exit. Then drive for about 10Km to the top of the hill where Camerino is located.
Those travelling to the west of the Apennines mountains should reach Foligno and then take the highway SS77 until the "Serravalle del Chienti" exit. Then follow the road indications until Camerino.
SHUTTLE BUS SERVICES
All accredited participants can freely use urban transport services that will be roaming every 30 minutes.
Dedicated buses will be organizing to transport teams from accommodation sites to sport venues and back according to matches schedule.
Buses schedule willl be available at the Accreditation Office, in the official bulletin and delivered personally to the Head of the Delegation during GTM.